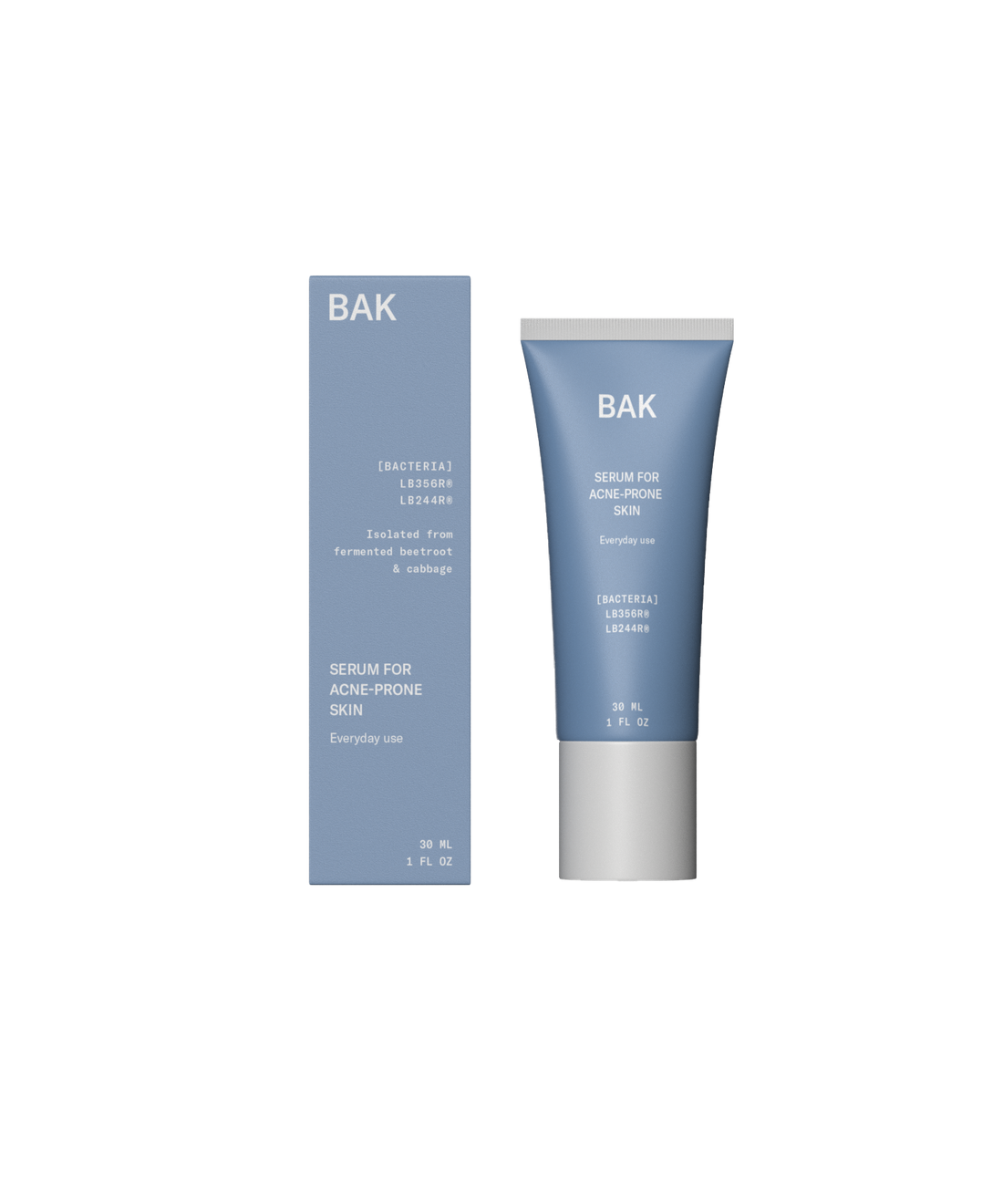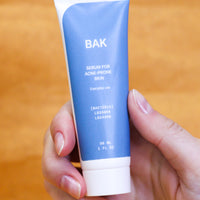 BAK Serum for Acne-Prone Skin
Suitable for face and body, and made for breakout-prone skin, BAK Serum for Acne-Prone skin is designed to balance the natural skin bacteria without irritating or drying out the skin. The serum is best suited to dry skin-types.
Probiotic, natural, vegan, and organic

Improves skin condition and appearance

Balances skin tone and complexion

Rebalances the ecosystem of microorganisms

Reduces biofilm formation and growth of C. acnes

Co-aggregation specificity to pathogenic C. Acnes
BAK SERUM FOR ACNE-PRONE SKIN is tested in dermoclinical trials. The trial was conducted as a double-blinded, placebo-controlled study of 40 people with impure and acne-prone skin. After 28 days of use, 71% of the participants experienced improvement.
Crystals For Probiotics: The fine crystals that you may notice in the serum contain the probiotics. They will dissolve upon contact with your skin to release the good bacteria.

How To Use: Cleanse your skin (preferably with a prebiotic cleanser).

Apply a small amount of serum to clean skin, and gently spread the product evenly, in a thin layer. The serum can be used both on the face and body.

Don't apply other products to the skin before applying the serum, unless those products are also free from preservatives and bacteria-friendly.

Avoid Skincare With Probiotics: Let probiotic products absorb into the skin for 30 minutes before applying other products, like sunscreen or make-up, that are water-based.

All water-based products contain preservatives designed to kill bacteria—also the good ones.

Simmondsia Chinensis [Jojoba] Oil, Hydrogenated Olive Oil, Lactiplantibacillus plantarum LB244R® & LB356R® [Probiotics], Tocopherol [Vitamin E], Helianthus Annuus [Sunflower] Seed Oil.