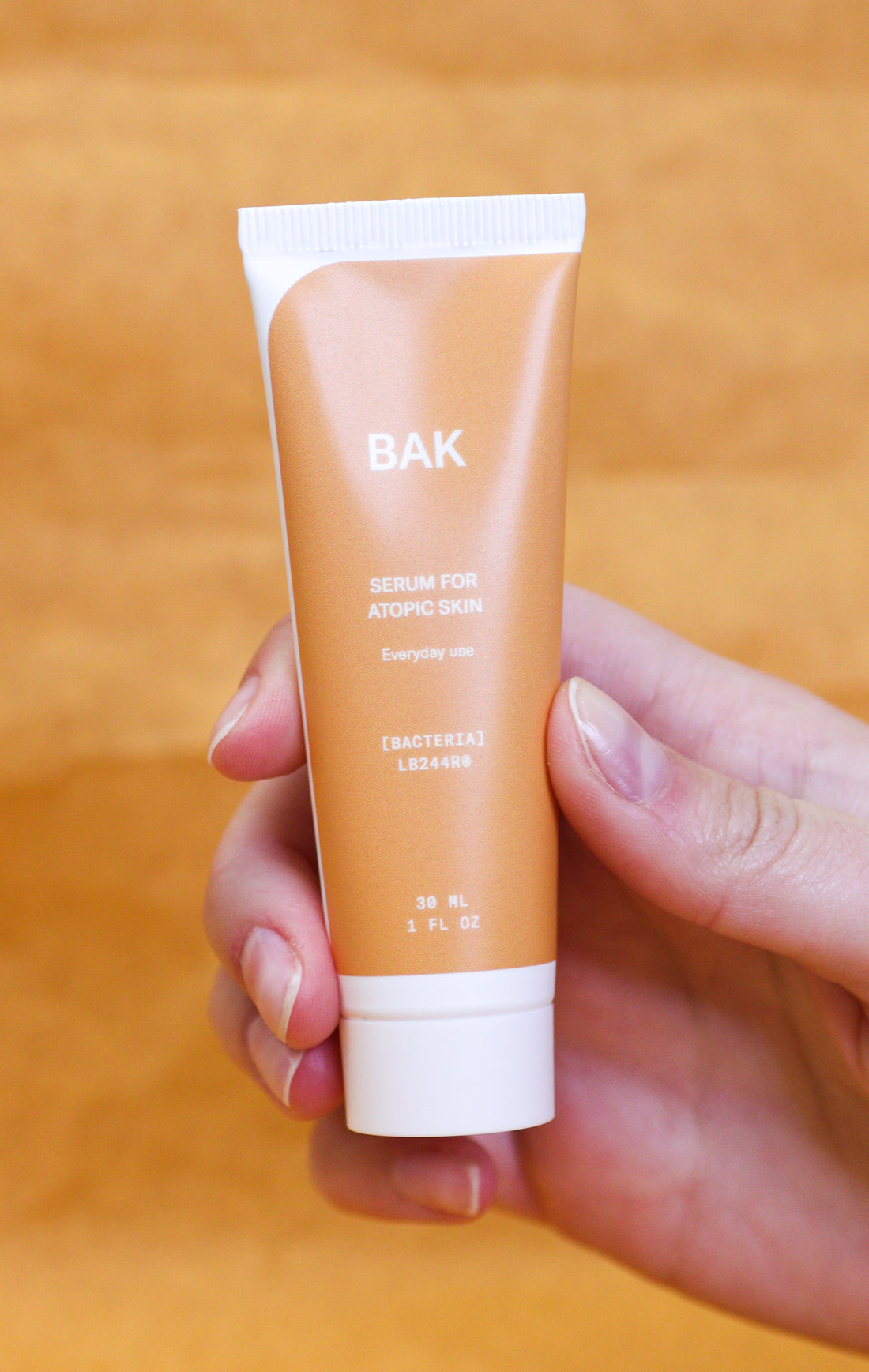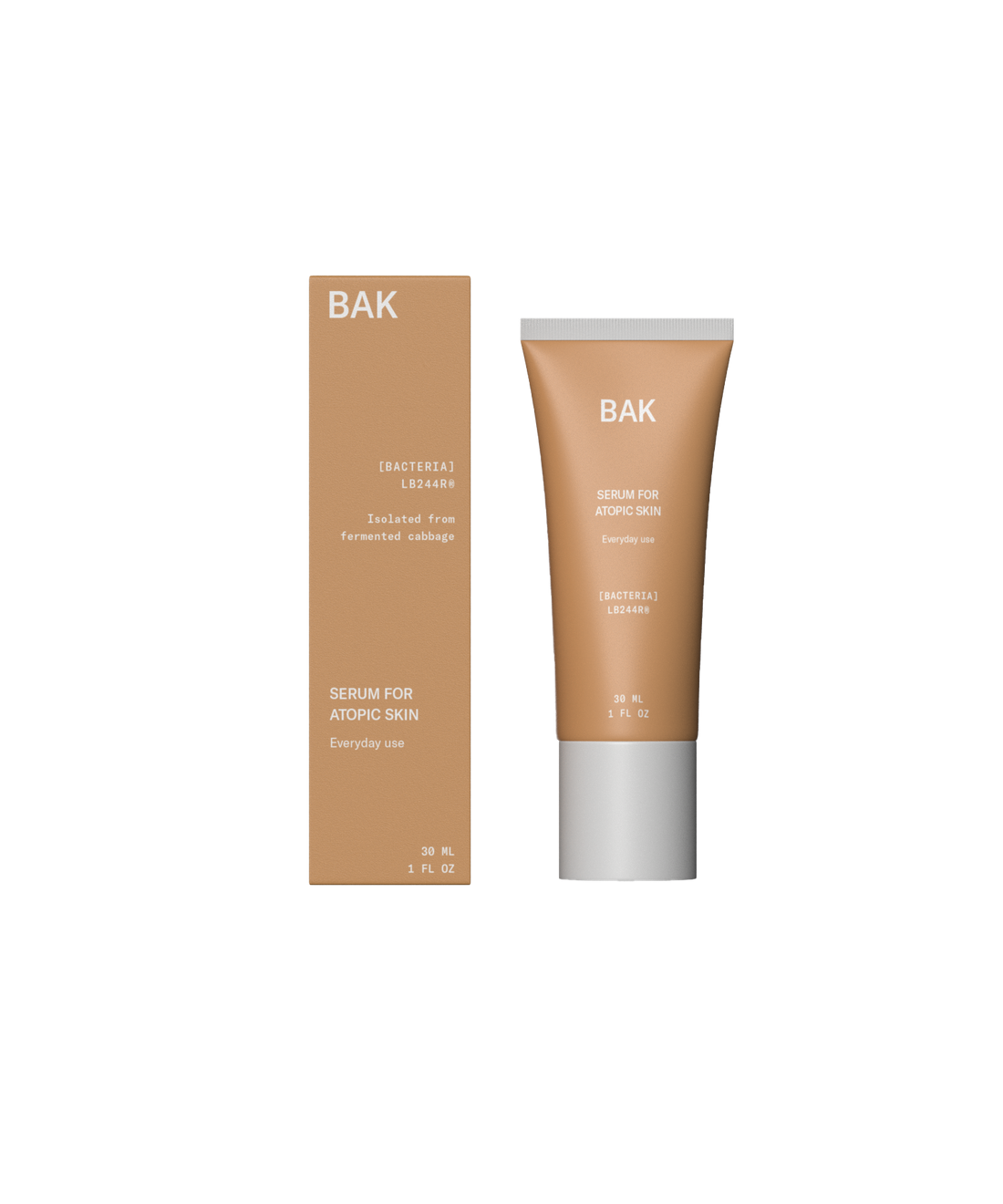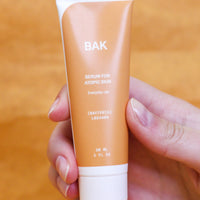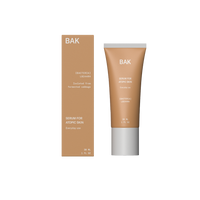 BAK Serum for Atopic Skin
Dry, irritated, and itchy skin can appear when the skin microbiome is out of balance, allowing pathogenic bacteria to thrive on the skin. BAK Serum for Atopic Skin contains probiotics that even out the balance and provide a soothing effect, clinically proven to reduce dryness and itchiness.

• Rebalancing the ecosystem of microorganisms
• Soothing effect
• Improves hydration
• Improves skin appearance
• Suitable for face and body
• Tested in dermo-clinical trials
Crystals Of Probiotics: The fine crystals that you may notice in the serum contain the probiotics. They will dissolve upon contact with your skin to release the good bacteria.

How To Use: Cleanse your skin (preferably with a prebiotic cleanser).

Apply a small amount of serum to clean skin, and gently spread the product evenly, in a thin layer. The serum can be used both on the face and body.

Don't apply other products to the skin before applying the serum, unless those products are also free from preservatives and bacteria-friendly.

Avoid Skincare With Preservatives: Let probiotic products absorb into the skin for 30 minutes before applying other products, like sunscreen or make-up, that are water-based.

All water-based products contain preservatives designed to kill bacteria—also the good ones.

Store Probiotics Cool Until First Use: When unopened, keep the probiotic serum in the fridge (2-8 °C) to maximize shelf-life.

Once opened, store the product at room temperature. The product will maintain maximum efficacy for the first three months after opening.
Butyrospermum Parkii Butter [Sheabutter], Brassica Campestris Seed [Rapeseed] Oil, Simmondsia Chinensis [Jojoba] Seed Oil, Hydrogenated Olive Oil, Helianthus Annuus [Sunflower] Hybrid Oil, Lactiplantibacillus plantarum LB244R® [Probiotic], Tocopherol [Vitamin E], Helianthus Annuus [Sunflower] Seed Oil.
Glowing skin!
I have eczema so I decided to give this product a try, and I am obsessed! It has transformed my skin. One thing I will say is that you have to leave it to "settle" on the skin for at least 30 mins with no other products on top, so I use this before I go to bed at night only. The little microbeads blend into your skin well and leave you feeling so smooth and looking so refreshed! My skin has never been so hydrated, balanced, and eczema-free. Love this product!