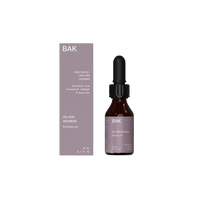 Improving hydration and skin appearance, BAK Oil for Redness is designed to balance the skin microbiome, resulting in a soothing effect. 
Probiotic, natural, vegan, and organic 

Rebalances the ecosystem of microorganisms

Soothing effect on irritated and itchy skin 

Improves hydration

Improves skin appearance 

Suitable for face and body
Facial Redness is a common, chronic skin condition, characterized by facial flushing and persistent redness.Reasons such as inflammation, different bacteria, and the mite Demodex folliculorum have all been associated with the disorder, but the actual role of the different microorganisms are not well understood.
Shake Before Use: The fine crystals that you may notice in the oil contain the probiotics. They will dissolve upon contact with your skin to release the good bacteria.

To ensure the probiotics are dispersed throughout the oil, shake the bottle before drawing oil into the pipette.

Apply To Clean Skin: Cleanse your skin (preferably with a prebiotic cleanser).

Apply several drops of the oil to clean skin, and gently spread the product evenly, in a thin layer. The oil can be used both on the face and body.

Don't apply other products to the skin before applying the oil unless those products are also free from preservatives.

Avoid Skincare With Preservatives: Let probiotic products absorb into the skin for 30 minutes before applying other products, like sunscreen or make-up, that are water-based.

All water-based products contain preservatives designed to kill bacteria—also the good ones.

Store Probiotics Cool Until First Use: When unopened, keep the probiotic oil in the fridge (2-8 °C) to maximize shelf-life.

Once opened, store the product at room temperature. The product will maintain maximum efficacy for the first three months after opening.
Helianthus Annuus [Solsikke] Hybrid Oil, Simmondsia Chinensis [Jojoba] Seed Oil, Brassica Campestris [Raps] Seed Oil, Lactiplantibacillus plantarum LB244R® & LB356R® [Probiotika], Tocopherol [Vitamin E], Helianthus Annuus [Solsikke] Seed Oil.