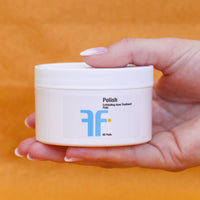 A potent combination of ingredients that, when used regularly, can produce skin exfoliating and clarifying effects. Polish may be used as an adjunct to acne-prone and oily skin therapy, to improve the appearance of large pores and smooth skin texture.
60 Pads
Suitable for oily and acne-prone skin. Use 1-2 times weekly, as directed. Smooth pad over areas to be treated.
Use with caution, avoid eyes, and follow instructions as printed on the packaging.
For more specific instructions, please contact the office to schedule a virtual consultation with one of our experts.
Polish Pads for teenager
I purchased the polish pads for my teenage son who was experiencing outbreaks on his chin and nose. These pads worked really well in clearing up the break outs and were also very easy for him to use on a consistent basis. I have just put in my second order to keep these on hand and would recommend to anyone.
Effective Exfoliant and Cleanser
I use these pads twice a week as directed, and they have done very well for cleansing my skin and keeping my face blemish-free. They are effective without being too harsh on the skin, and I have been very satisfied with the results!