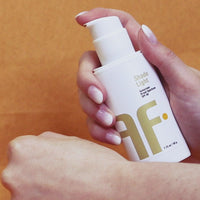 A broad-spectrum sunscreen that works wonderfully under make-up for daily use.  Formulated with Zinc oxide and Titanium dioxide to provide sun protection.  Enhanced by the addition of melanin, a naturally occurring anti-oxidant pigment in the skin. The silky, matte finish ensures that make-up will glide on smoothly, without a caked-on appearance or feel.
Apply prior to sun exposure and reapply every 3-4 hours. Used according to directions, this product should last approximately 2 months.
Awesome….Love the product
I love the product, but in all honesty, have always had an issue with the dispersion of it. When it quits "pumping" it is not empty, there is 1 to 2 days product still left inside that the pump. I just take it apart. Don't get me wrong, it is the best I've ever used, so issue or not, I'm addicted to the product.
Love this product!
Not only does this provide excellent, proven sun protection, it goes on light, smooth and evens out my skin tone leaving my complexion glowing. This has become part of my morning routine and really is my #1 beauty product. I can't recommend it enough!
Great Product!
Shade Light is amazing. Not only does it provide sun protection it smooths and evens out my complexion! I recommend this product to everyone!
No skin cancer for me!!
Coming from a family who all had melanoma, this is the ONLY sunscreen protection I will use! I feel confident with Shade on my face, it feels smooth, not oily and above all doesn't smell like you have sunscreen on!